SHOWSTOPPERS!
THE ALBERICI SISTERS
MARIA LAUREN & LINDA EICHBERG
 
THE GOLDDIGGERS OF
THE DEAN MARTIN COMEDY HOUR
& THE 1977 RAT PACK TOUR
Beyond Our Wildest Dreams propels the reader back to the glory days of The Rat Pack, dazzling Las Vegas in the 1970s, and the end of the television variety show era.
It's the story of The Alberici Sisters, two Philadelphia teen beauty queens who went on to share the stage (and their lives) with Dean Martin for almost twenty years in his acclaimed Golddiggers girl group, appearing on his television series, yearly specials and opening for him in Vegas.

The Alberici Sisters backstage with Dean
Along the way Maria (Alberici) Lauren & Linda (Alberici) Eichberg, worked and played with Frank Sinatra, Bob Hope, Jerry Vale, Donald O'Connor, Tom Jones,Louis Prima, Milton Berle, Jonathan Winters, Dom Deluise, Sammy Davis, Jr, Wayne Newton, Gene Kelly, and other legends of the screen and Las Vegas stage.

Dean & Frank on stage at The Westchester Premier Theater in New York, summer of '77
Anyone interested in Dean, Frank, the glory days of Vegas, and the final years of the legendary Rat Pack will love this book filled with behind-the-scenes stories!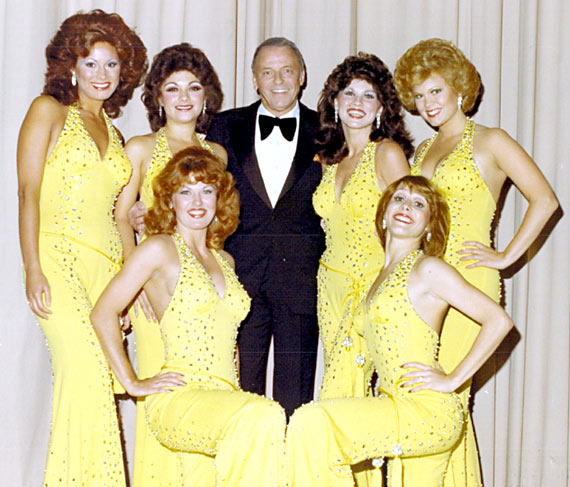 The Golddiggers backstage
with Frank Sinatra

But it's not all glitz and glamour - it's also the story of a large Italian family led by a domineering father who's radical ideas on health and nutrition were decades ahead of their time and a sometimes glamorous mother of nine children with a quirky show biz background.
The dark side of the business rears its ugly head as the ladies tour with the sleazy Cotton Club Murder victim Roy Radin and just miss what may be the deadliest mob hit of all time - after just a few minutes 165 innocent people were left dead.
Backstage untold stories!
Folks across a wide spectrum of the entertainment industry participated in this unique oral history project.
Taping The Dean Martin Show, the last successful
Rat Pack tour with Sinatra and Martin, hanging out
with Sammy Davis Jr., Donald O'Connor's battles with alcoholism, Louis Prima's final dates— untold stories vividly brought to life by the people who were there. The way it was!
Christians looking for inspiration, classic TV enthusiasts, beauty pageant aficionados, Frank & Dean fans, or anyone who enjoys reading an uplifting story about good times and great talent - this book appeals to a wide audience.

The Alberici Sisters on the Grammy Awards
Red Carpet 2009 for Dean's
Lifetime Achievement Award

Follow our Blog for the latest news!
REVEALED: The untold behind-the-scenes story of the little known
1977 Rat Pack Tour with Frank Sinatra, Dean Martin and The Golddiggers!
342 pages - more than 350 rare unseen photos!
All the excitement of Las Vegas in the go-go seventies!
CLASSIC VIDEOS:

Former Dean Martin Golddiggers, The Alberici Sisters, Maria Lauren, Linda Eichberg and Darlene Cianci perform, "In The Mood" at The Osmond's Telethon for the Children's Miracle Network, hosted by John Schneider, Tawny Little and Jayne Kennedy. And more!

Larry King proclaims to be a fan of The Golddiggers while Maria Lauren was in the group on "Larry King Live" featuring daughter, Marianna Riccio. Also clips feature Maria & Linda performing with The Golddiggers from 1973 - and the former Dean Martin Golddiggers today in "Showstoppers."


In 1973, Maria and Linda were flown to Hollywood to join The Golddiggers and perform with the likes of Dean Martin and Frank Sinatra. Wow! Best backstage pass ever! Enjoy these two masters clowning around together while they sing a medley of songs!


Here are the Alberici Sisters themselves in these highlights from The Dean Martin Comedy Hour in 1973 - and a taste of the gals today, sounding better than ever, I'm sure you'll agree!

The Alberici Sisters are the musical link to the greatest entertainers of all time!






"Red Hot Scandals" with Dean Martin, celebrities and the Alberici Sisters from The Golddiggers; prohibition was never this funny! Plus, Maria and Linda singing today with a swinging Big Band and more!

Maria & Linda worked with Louis Prima - it was no big deal to them but wow! It was his last tour - Prima, Gia Maione and Sam Butera were starting over with a new band and a cool new sound. None of which is on You Tube. But this is, Prima, Maione & Butera on Dean's show in 1965.

For more information
This oral history was produced and designed by Billy Ingram creator of TVparty.com, author of the critically acclaimed book TVparty! Television's Untold Tales and producer of the 2007 Eisner Award nominated Dear John, The Alex Toth Doodle Book; star of VH1's Supersecret TV Formulas and Bravo's 100 Great Things About series. (Click here for more info on Billy Ingram)
---
HERE'S WHAT PEOPLE ARE SAYING
ABOUT THIS EXCITING NEW BOOK!

Listen to an interview with
Maria & Linda from Television Confidential

An interview with Maria & Linda from KCNR
"There's a brand-new book that traces those magical years and what life was like, performing with show business legends: Dean Martin, Frank Sinatra, Sammy Davis, Donald O'Connor, Louis Prima and similar legends."
"Not only does it focus its motif on Dean Martin, but it also captures the fun and spirit of the era with more than 300 rare and unseen photos in a wonderful pictorial layout. Historian Billy Ingram produced this 340 page book with a unique way of story-telling using quotes and dialogue as if a room full of contributors were all communicating on a party line."
- Neil T. Daniels, President DEAN MARTIN FAN CENTER

"This is a book about people... two people in particular, of course, named Maria and Linda Alberici, but also the many people who either worked with them or crossed their lives in the course of their show business journey.
"How fortunate they were to hone their craft as entertainers at a time when old Hollywood and old Vegas were still alive and vibrant, variety shows dominated television, and nightclub singing acts were just as spectacular, and yet a little more intimate. How fortunate we are that Maria and Linda have captured the fun and spirit of that era throughout the pages of this engaging book.
"Beyond Our Wildest Dreams provides a backstage pass at entertainment life in the 1970s, with great stories about Maria and Linda's work with such legends as Louis Prima, Gene Kelly, Donald O'Connor, Jerry Vale, Jonathan Winters, Sammy Davis Jr., Bob Hope, Red Skelton, Frank Sinatra and, of course, Dean Martin. Then again... to most of us, they're legends. To the Alberici Sisters, they're people. And that's the way you'll see them, too, by the time you finish their book."
- Ed Robertson, Host TV CONFIDENTIAL
"Maria and Linda have written a sublime book about their lives in show business. It's all integrated with quotes from their family, friends, co-workers and the lovely ladies themselves. And it's extremely engrossing. I was happy to be a part of their lives, yet I was surprised and pleased to find a lot in their book that I was unaware of, things that I chuckled over and things I was moved by. The ladies have had a remarkable life, and it's lovely to read about it."
- Dean Martin Show Producer Lee Hale
HERE ARE SOME SAMPLE PAGE SPREADS:
LOOKS LIKE FUN, DOESN'T IT?
The Alberici Sisters backstage with Dean during one of their last performances together. Maria and Linda performed with Dean Martin within the span of almost two decades. They share their personal photos and experiences in this exciting book!